Summer dates
June 24-28
July 8-12
July 22-26
August 5-9
Class Times
CrossFit Kids: 1:30 PM – 2:15 PM
CrossFit Teens: 2:30 PM – 3:30 PM
Pricing
$115 per week for each child or teen enrolled
Class Structure
Each hour long class begins with a warm-up, a skill component, and then a workout that incorporates the skill. This class structure includes an array of skills: coordination, agility, cardiovascular endurance, etc. During each class we focus on teaching proper technique in a fun way! This challenges young athletes in a safe environment to foster improvement in physical fitness at all age and skill levels. Interested in joining? Contact Coach Anjo at the link below. CrossFit Kids are ages 5-10 and CrossFit Teens are ages 11-16.
Fitness for a lifetime
At CrossFit Optimistic we strive to instill in our young athletes the importance of a healthy active lifestyle. Through workouts and creating a dialogue about healthy eating, we teach kids that fitness is fun. With children out of school for the summer, CrossFit kids and teens is the perfect way to keep them active and ready for sports and P.E. in the fall! Even if your children are playing sports this summer, CrossFit is a great way to keep your child engaged learning new skills.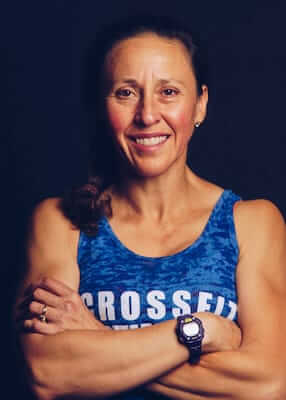 Coach Anjo has been training kids for eights years as as CrossFit Kids Certified Coach and knows how to safely train young athletes in a fun and engaging way. Her priority is teaching kids good technique and a love for life-long fitness! This past winter Coach Anjo taught a seven-week fitness camp to a group of 20+ kids at the The First Tee in Alamo Heights.
Angelina is the gym manager at CrossFit Optimistic North Central. Prior to her CrossFit journey Angelina worked in the biotechnology field as a Senior Quality Engineer. She and her family left the Austin area to move to San Antonio in 2010 to pursue a career in CrossFit. CrossFit Optimistic is an extension of her family, developing strong relationships and building a more fit San Antonio. Angelina is married to Mike and together they have four kids, Forrest, India, Sierra, and Maya.
Angelina graduated cum laude with a B.S. in Chemistry with a minor in Mathematics from St. Mary's University here in San Antonio, Texas. She holds the CrossFit Level 1 and Level 2, Olympic lifting, Rowing, Kids, Endurance and Mobility certifications. When not CrossFitting you'll find Angelina spending every minute with her kiddos. Coach Angelina can be reached at [email protected]
Frequently Asked Questions
Will weightlifting negatively affect my child's growth?
In short, no. Through safe and proper technique in all the weightlifting movements your child will gain proficiency and understanding on how to use a barbell. In fact, weightlifting has been shown to reduce the risk of injuries for muscles and joints. Here is a CrossFit Kids article dispelling myths about kids and weightlifting.
How does exercise affect the brain?
"By offering novel experiences, creating repetition, incorporating complex movements and effectively grouping stimuli, we help our kids to learn better, remember more and experience permanence in skill development."

Cyndi Rodi – Level II certified CrossFit Trainer, CrossFit Kids Programmer and Trainer
Read the full article HERE to learn about how exercise gives kids and teens better brain function.
Want more information about the benefits of CrossFit Kids and Teens programming?
Check out our this NPR article "Is CrossFit Training Good For Kids?"and CrossFit Kids Journal Video to learn more about how the CrossFit Kids and Teens program makes fitness fun!
What are the age requirements to be a part of the CrossFit Kids or CrossFit Teens program?
CrossFit Kids is for children ages 5-10 years old.
CrossFit Teens is for pre-teens to teens ages 11-16.