For more than 10 years, CrossFit Optimistic has been in the San Antonio community doing what we love – sharing our love of health and fitness through coaching CrossFit. Let's reflect on some highlights from the past decade!
2010: Victory 400
After serving in Iraq from 2004-2005, Coach Mike felt the need to give back to his brothers and sisters in the Armed Forces. Coach Mike created the fundraiser Victory 400, a 312-mile run from Fort Worth to San Antonio, Texas in September 2010 raising money and awareness for our Wounded Warriors. Packing up the family in Austin, they moved to San Antonio where Coach Mike began coaching CrossFit and training for over a year for Victory 400 . The run along with a classic CrossFit fundraiser, Fight Gone Bad,  their community raised over $35,000.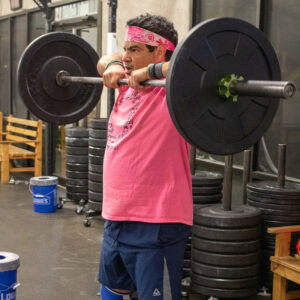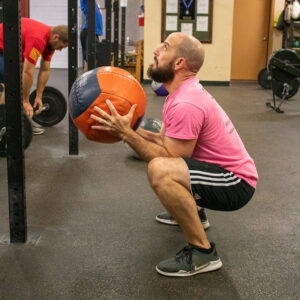 Fight Gone Bad originally started as a CrossFit Fundraiser, with proceeds going to nonprofits such as the Wounded Warrior Project. When Coach Mike and Coach Angelina worked at Alamo CrossFit, the gym raised $35,000 in 2010. Then in 2011, they raised over $70,000, the highest amount of any worldwide CrossFit affiliate that year.
Ever wondered where the workout name came from? Fighter B. J. Penn asked Coach Glassman, Founder of CrossFit, to make him a workout that simulated the intensity of a fight. So, Coach Glassman created the following workout: 
3 Rounds For Total Reps in 17 minutes
1 minute Wall Ball Shots (20/14 lb)
1 minute Sumo Deadlift High-Pulls (75/55 lb)
1 minute Box Jumps (20 in)
1 minute Push Press (75/55 lb)
1 minute Row (calories)
1 minute Rest
Afterwards, Glassman asked what Penn thought of the WOD and he replied "that's a fight gone bad."
2011: Adaptive Athlete Summit
Filmed in August of 2011 in San Antonio, Texas, at Alamo CrossFit, the first ever Again Faster Adaptive Athlete Summit featured some of CrossFit's best coaches as they came together with a group of adaptive athletes for two days of gymnastics, olympic lifting and mobility work. Athletes went through different seminars including weightlifting, nutrition, and even did the CrossFit Girl WOD "Cindy."
Coaches Jeff Tucker, Jay Leydon, Austin Malleolo and James Hobart joined with Olympians Chad Vaughn and Kendrick Farris to put the guys through skill sessions and CrossFit workouts, proving — if it even needed to be proven — that CrossFit is for everybody and further showing the world what is possible when you stop looking for excuses and start to adapt.
   
2015-2019: Bataan Memorial Death March
This 26.2 mile ruck march in White Sands Missile Range, New Mexico is to memorialize the tens of thousands of American and Filipino WWII prisoners of war who were forced to march 65 miles with little food or water. Coach Mike has participated in the Bataan Memorial Death March since 1998, completing the event over 10 times in a wide range of the divisions. He has done the March in the Military Heavy (individual, COED teams) and Civilian Heavy (individual, COED teams) divisions. The Optimistic Ruck Team won the COED Civilian Heavy Division in 2017, 2018, and 2019.
2017: The Arena Competition: Adaptive vs Able Bodied
In 2017 Crossfit Optimistic put on the Arena Competition. Another first-of-its-kind event, this competition had both adaptive and able bodied athletes competing in a series of unique workouts. This event raised $3,000 for the San Antonio non-profit Operation Comfort.
SABO Warhawks Basketball Team
For more than 5 years, CrossFit Optimistic has been the strength and conditioning arm for the San Antonio Basketball Organization, SABO Warhawks. CrossFit Optimistic works with these basketball players in weightlifting and sports specific exercises. We are proud to see many of their athletes get college baseball scholarships!