In April, Optimists cheered on our Coaches for the CrossFit Games Quarterfinals and prepped for big events coming in May! Events like the Open & Quarterfinals, when our community comes together to cheer on other members in their fitness endeavors, really brings us back to our roots and reminds us that we put the "Optimist" in CrossFit Optimistic!
CrossFit Games Quarterfinals
Coach Forrest and Coach Kyla qualified for the CrossFit Games Quarterfinals! From April 22 – 25, they completed a series of 5 workouts alongside Coach Sheina from CrossFit Dagda.
View this post on Instagram
"The best part about the CrossFit Open, and now the Quarterfinals, is seeing CrossFitters come together to do what we love. It was a fun time to workout with athletes from another box, see different parts of San Antonio. It's so cool to be part of the global CrossFit community."

– Coach Forrest
The Optimistic Podcast
For the 50th episode of The Optimistic Podcast, Coach Mike interviewed his good friends Danny & Billy Rodgers of Framework Events. The Rodgers brothers are the heart and soul of the CrossFit Games! Billy and Danny manage everything outside the competition floor from bleachers and equipment, to tents, turf, tickets and more. In their interview, they share funny stories like setting up a personal porta potty for Dave Castro, and staying up late at the venue to set up hay bales for the famous "cheese curd" workout at the Games.
The Revolution Competition
It's been nearly two years since CrossFit Optimistic last hosted a competition and man, we are ready! The Revolution Competition: Intolerable Acts will take place Saturday, May 8. There are three divisions for men and women – RX, Scaled, and Masters. For many of our competing athletes, this will be their first competition! For our seasoned competitors, there will be NO high skill gymnastics movements such as HSPUs, handstand walking, or ring/bar muscle ups. Come cheer on the athletes or volunteer!
Second Chance Prom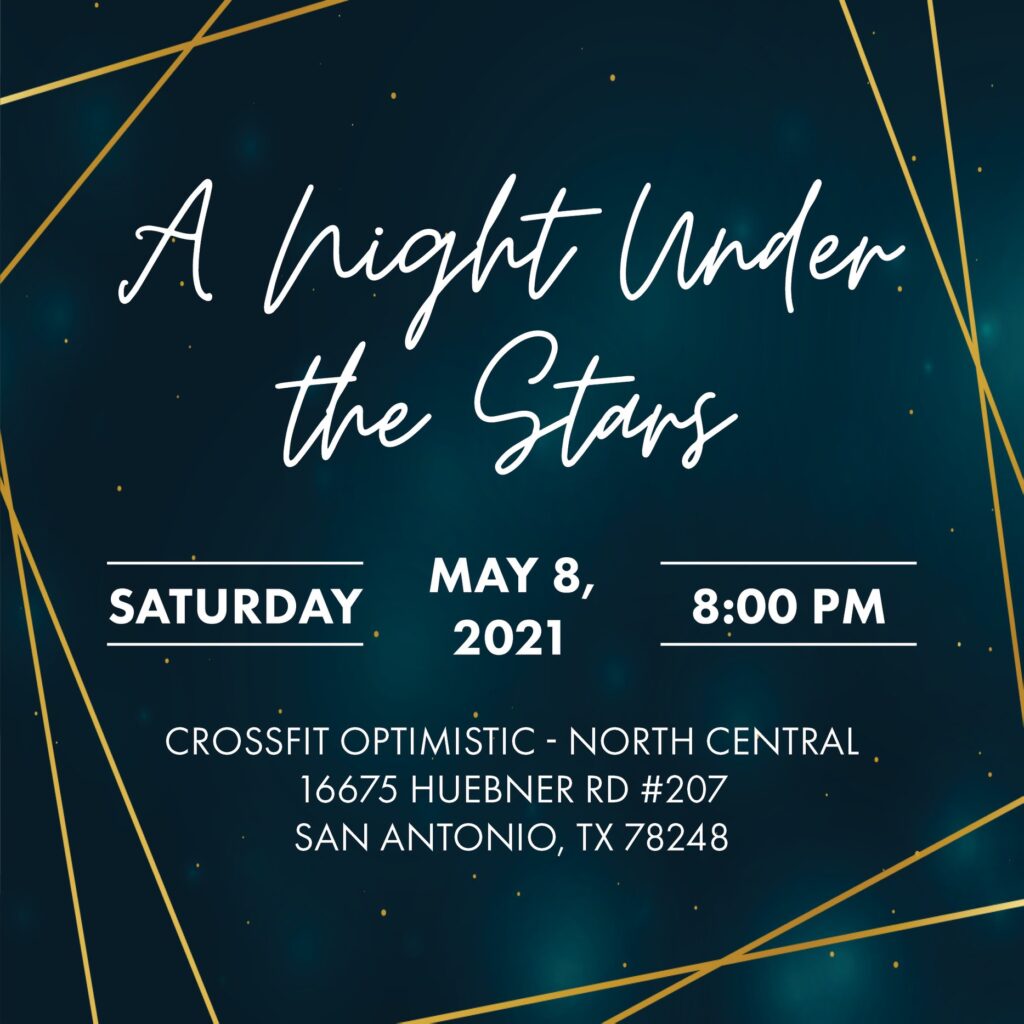 Coach Mike & Anjo's second daughter, Sierra, is a senior this year and her high school will not be hosting prom. Coach Mike, eager to give Sierra all experiences life has to offer, decided he'd host a prom for her at the gym and invite the whole community – and you are invited too! Get dressed up, bring your date and let's dance! We'll have drinks, a DJ playing some 80's tunes, and a professional photographer capturing the fun. Tickets can be purchased online, and prom doors will open Saturday, May 8 at 8pm.
Community Encouragement: Always an Optimist
"I love my CrossFit friends. What other sport has competitors that cheer for each other, motivate each other, stay late after they've finished their workout and yell at you to keep pushing till the end? And sometimes compliment you on your hamstrings, ass, biceps, etc while you are dying during the WOD? Thank you CFO friends for being awesome!"

– "Dream Maker" aka Tula Derencius
Tula has been an Optimist for many years! It always brings a smile to our face knowing our community always supports and lifts up one another. We can't wait to see what summer will bring for us at CrossFit Optimistic!