January
A Word from Coach Mike
To start off 2021, Coach Mike shared some words of wisdom…
Always move forward. Constantly put yourself in uncomfortable positions that force your hand to learn, improve and grow. Have a desire to be better than the day before. Never settle for the same ole same ole. Never accept being comfortable.

Attempt. Fail. Repeat. Over and over and over.
Widowmaker
What better time for new challenge than a new year? January 2021 started with a back squat series called "The Widowmaker" – max weight for 20 back squat reps. Every Friday for 8 weeks, athletes challenged themselves to make their back squats a little bit heavier.
February
Skill Clinic with Coach Tori & Coach Chip
Coach Tori & Coach Chip taught a 90-minute skill clinic, instructing athletes on the foundational gymnastic movements – the hollow and arch shapes. The coaches walked athletes through warm up drills to get their arms, legs, and core ready for time under tension. The word of the day was "virtuousity" – great ability or skill.
800g Challenge
Starting February 8, Optimists joined the 800g Challenge, aiming to eat a variety of fruits and vegetables. Our hope is that athletes find routines and habits, and make changes in their diet that make you feel better and inspire you to move your body! That's what challenges like this are all about – finding what works for you.
March
CrossFit Open
This year's CrossFit Open was the first year of a new schedule, 3 weeks instead of the usual 5. As always, we ended each week with a Free Beer Friday, to cheer on athletes throwing down the Open WOD and enjoy a beer with fellow Optimists.
Diploma Dash
On March 20th, Optimists gathered at CrossFit Optimistic Alamo Heights to run the UTSA Diploma Dash, a fundraiser 5K in support of college scholarships! Randy aka "Wall Street" and Jacy aka "Cereal Killa" Daniels are proud UTSA Alumni, and they wanted to bring together the school they love with their gym community. Birds Up!
April
CrossFit Quarterfinals
Following the 2021 CrossFit Open, Coach Forrest and Coach Kyla qualified for the CrossFit Quarterfinals! From April 22 – 25, they completed a series of 5 workouts alongside Coach Sheina from CrossFit Dagda.
"The best part about the CrossFit Open, and now the Quarterfinals, is seeing CrossFitters come together to do what we love. It was a fun time to workout with athletes from another box, see different parts of San Antonio. It's so cool to be part of the global CrossFit community."

– Coach Forrest
May
Revolution Competition
May started off with a bang – an in-house competition and Second Chance Prom in one day!
View this post on Instagram

Second Chance Prom
View this post on Instagram
Murph
Our biggest community event every year is Murph, a Hero WOD named after Lt. Michael Murphy. One mile run, 100 pull-ups, 200 push-ups, 300 air squats, and another one mile run for time. Was 2021 the year you PR'ed your Murph time?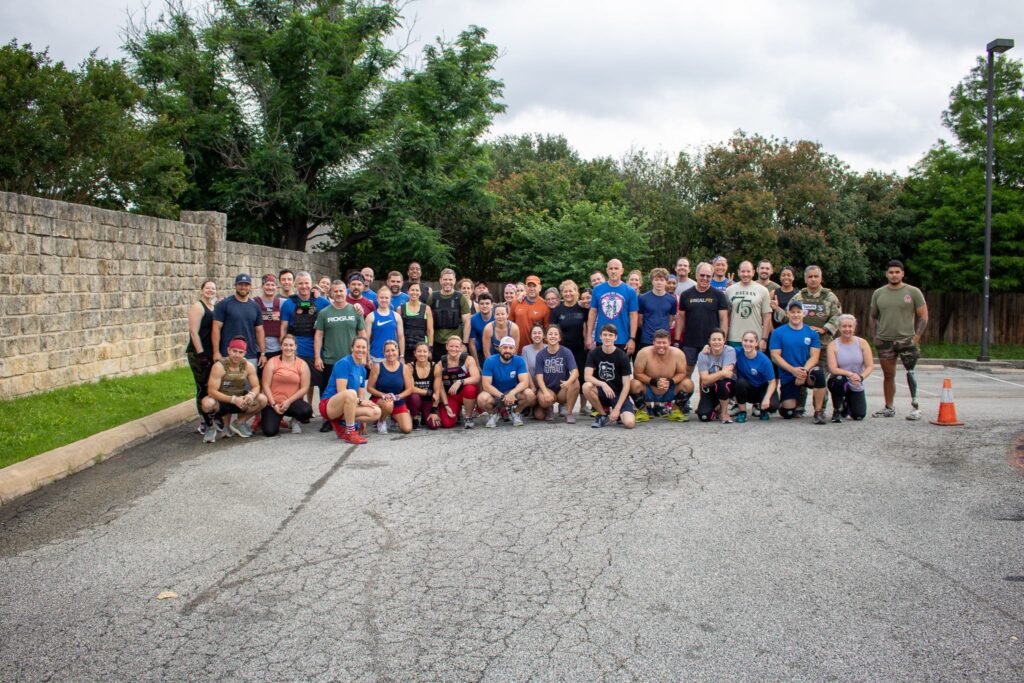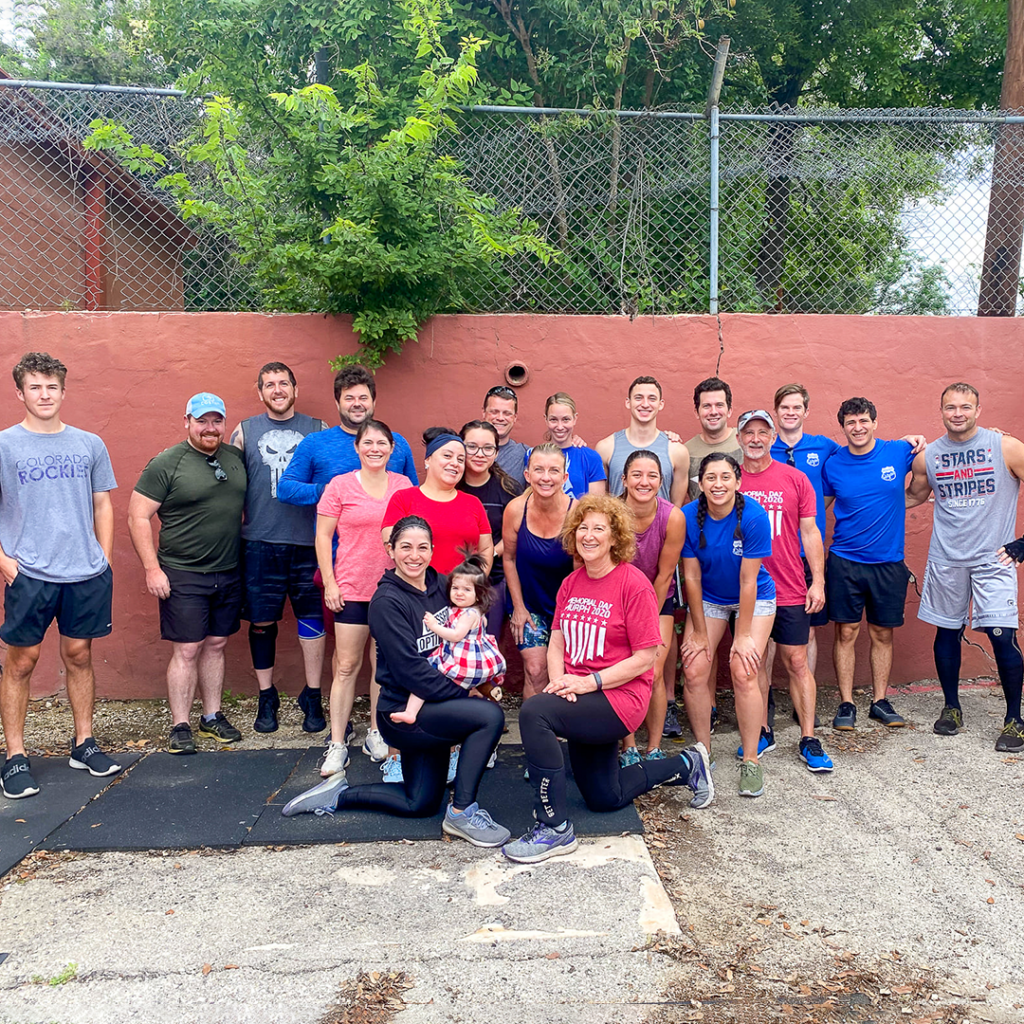 June
Optimistic Podcast – What Pride Means to Us
CrossFit Optimistic celebrates Pride Month! Coach Forrest talked with Abby aka "Horse Whisperer" and India aka "Tickle" about what pride means to them, their coming out stories, and advice they'd give to their younger selves. Their advice for anyone ready to come out to their friends and family?
Before you come out, accept and love yourself first. You don't have to come out to everybody all at once, take it one step at a time and know you're not alone.
Surround yourself with people that love you. Make sure you're in a safe space before you come out and tell the world. It's great to be yourself and live the life you want to live.
July
NC 8 Year Anniversary
A few more words from Coach Mike to celebrate this anniversary…
We are celebrating 8 years at CrossFit Optimistic North Central!

For months before this Coach Mike and Coach Anjo coached at the Churchill High School track, then the dance studio (that would later become the loft) before finally moving into this large space.

We opened with no rig, limited equipment, and a dusty concrete floor. So many great memories with the Optimists in this photo, and many of them still WOD with us today.

We didn't know 8 years ago what was in store for us- the hundreds of WODs, the CrossFit community, and our Optimistic family…

Thank you to everyone who has walked through our doors and allowed CrossFit Optimistic to be a part of your life.
Kids & Teens
One of CrossFit Optimistic's favorite programs to host each summer is our Kids & Teens sessions. Seeing the joy in their faces when they do the same workouts as their parents, sharing their feeling of success when they master a brand new movement, and just the infectious energy of our youngest Optimists make these summer sessions simply the best. CrossFit, at its core, is infinitely scalable. We apply this to CrossFit Kids & Teens by often taking the same workout that the adult classes did that day and modifying movements so that young athletes can complete the same WOD.
I love hearing stories of how these WODs spark family conversations. Who did which workout faster, the kid or the parent? To bring the joy of CrossFit home, it just doesn't get better than that.

– Coach Forrest
August
Ringing PR bell
A new addition to both gyms this year was a PR bell! When athletes hit a new max weight or max reps, they can ring the bell loud and proud for everyone to cheer.
View this post on Instagram
BCS Classic
This year three Optimistic teams went to College Station, TX to compete in the BCS Classic. Forrest & India, Panky & Tori, and Kyla & her sister Alex competed alongside countless others teams and did very well! Congratulations to all for a hard-fought weekend of fitness!
September
AH 4 Year Anniversary
CrossFit Optimistic celebrated the Alamo Heights location's fourth anniversary with a community workout. Coach Forrest, Kate, and Coach Chip reflected on what this community means to them and shared some of their favorite moments from the past four years.
Men & Women Only WOD
We love to hear from our members of what they want to see at the box. After a member suggested more after-hours community events, the Men & Women Only WODs were born! It's always great to see the camaraderie of Optimists from different locations and class times. So many new faces come in every day and these events are also a great time to meet new people!
October
Skill Clinic with Coach Forrest
Coach Forrest lead a skill clinic teaching new techniques or movement modifications for Pull Ups and Double Unders.
View this post on Instagram

Million Meter Row
Coach Mike set a challenge for 2021 for anyone who accepts the mission to row 1,000,000 meters. Two Optimists achieved this! Judi aka "Unchained" from Alamo Heights and Shawn aka "Shirtless from North Central. What an achievement, way to go!

November 
Garage Games
The Garage Games is a nation-wide competition series that tracks athletes performances and ranks them throughout the year! The Garage Games includes events hosted by gyms across the country, including the event at CrossFit Optimistic on November 6. Several Optimists competed against athletes from all over Texas in a series of workouts that tested all modalities of fitness.
Thanksgiving
There is no better season than Thanksgiving to take stock of what we have in life and how incredible our gym is. The Martinez family shared what they love about CrossFit Optimistic in a recent blog post. If you made it this far, thank you! Thank you for reading and for supporting our community.
December
White Elephant
One of our favorite community events every year is the White Elephant Gift Exchange. Everyone brings a wrapped surprise gift and we take turns picking a new present or stealing someone else's present.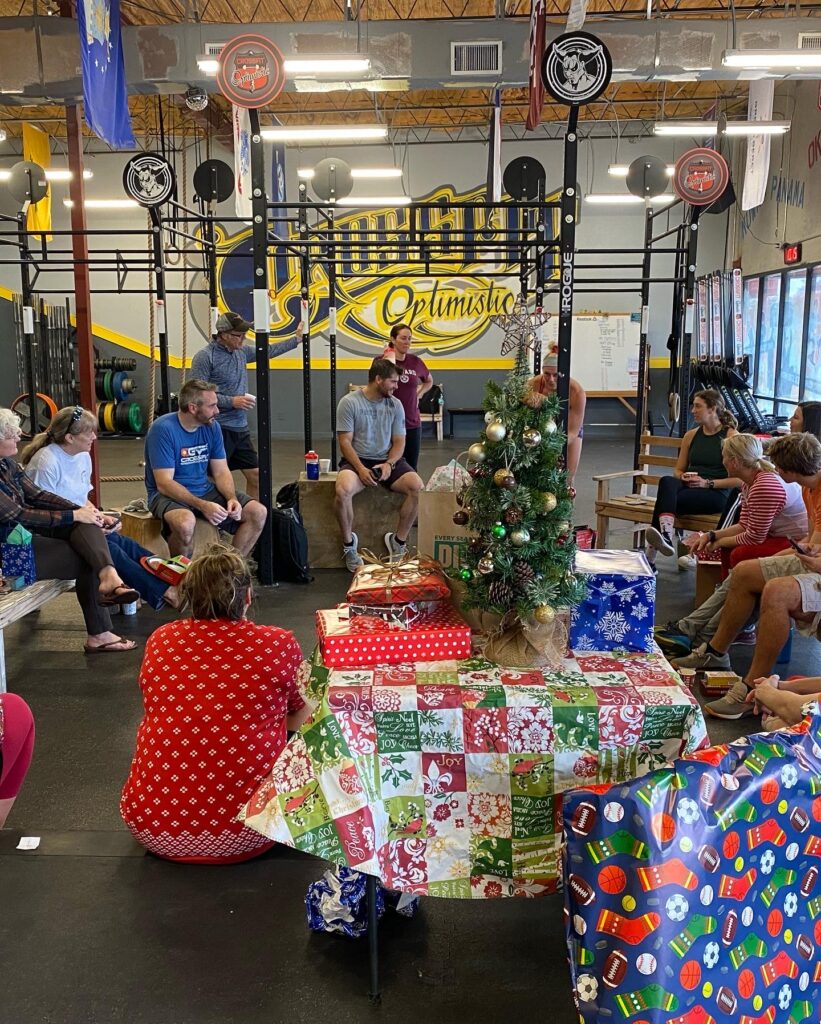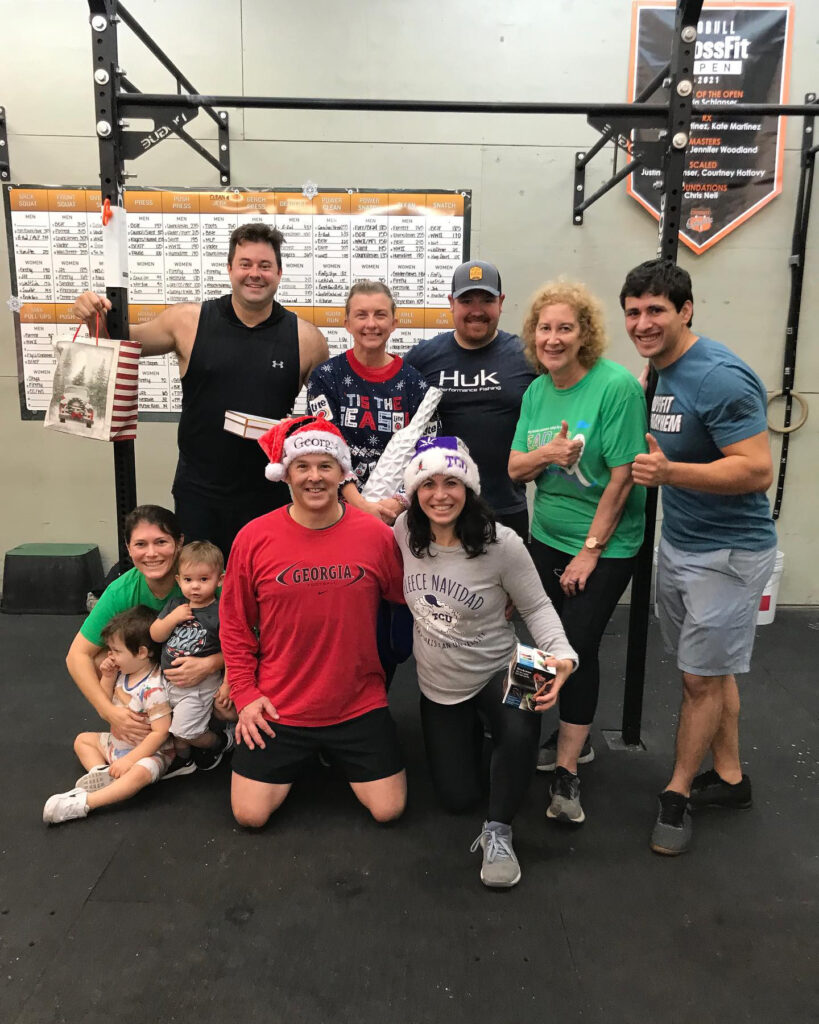 2021 Wrapped
At CrossFit Optimistic, each year is better than the last and 2021 is no exception. The community grows bigger and stronger each year, milestones are celebrated, PR's are reached, and the Optimism for life keeps flowing. We can't wait to see what 2022 brings.