There's no better season to reflect on what we're grateful for than Thanksgiving. CrossFit Optimistic, and the community of members that make up the gym, has changed the lives of the Martinez family in countless ways. We wanted to take a moment for each family member to share why they are thankful for CrossFit Optimistic, and what the gym means to them.
Coach Mike
Goes without saying that I'm thankful for my family that has believed in me from day one. From the day I said "mom and I are leaving our jobs in Austin, moving down to San Antonio and starting this thing called CrossFit" to today. Beyond grateful for the members, our CrossFit Family, that has been my "rock" in both the highs and the lows. Without them there wouldn't be Team Martinez. I have wonderful memory after memory from our box: From seeing athletes get their first toes to bar in the CrossFit Open to a member running their first mile, EVER (and shedding a tear or two) to a member sending us a note that they are off their anti-depression medication to seeing my wife throw down next to Julie Foucher…right there…in our box. We have a once in a lifetime community with kind, loving human beings.
Coach Anjo
Thanksgiving, the season of thankfulness and family, is my favorite time of year. Our Optimistic community has watched my kids grow up in the gym and it has been such a blessing to Mike and I to have so many good people touch their lives. It is such a special experience to know they all understand hard work, commitment, and being part of a community through CrossFit. I cannot think of a better way for them to learn those values that will serve them well throughout their lives. The people who have been woven into the fiber of our family are a piece of our story that will continue on to the next generations. Thank you to CrossFit Optimistic Optimists for being an extension of our family and Happy Thanksgiving.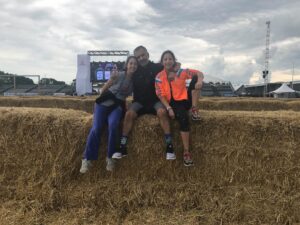 Coach Forrest
I'm thankful that CrossFit Optimistic is filled with fun and caring people that I can talk to and will give me true advice about life. That never gets old. All the greatest people I know are at CrossFit Optimistic.
I think it's cool that my whole family does CrossFit and we've grown closer through these workouts. The idea that fitness is a way for us to have fun together is so cool; it's a joint activity that we can all bond over.  I love that CFO is a space for other families to experience that too, parents alongside their kids getting a good sweat in.
Coach India
It takes a village, or in this case a CrossFit community, to raise a kid…. or four Martinez kids. The Optimists at the box have been a huge part of my life. They have seen me from a high schooler to college student and beyond. They are the people I can count on to push me in a WOD, give me their wisdom, and share laughs after class sitting on the benches outside the gym. Our Optimistic family continues to teach me in my daily life- to be a better person, a better coach, and so much more. I'm thankful for this community!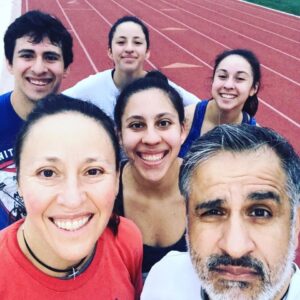 Sierra
I am thankful for CrossFit Optimistic because it's where my family is! Not just my family by blood, but also the extension of it in the community. What is so special about everyone at the box is that they're not just someone you workout alongside, they're also people that are just wonderful to be around and to talk too.
Maya
The community at the box, my second home, are like family. I have grown very close with all the loving and caring people who make up CrossFit optimistic. I think overall the memories of me growing up at the gym doing CrossFit kids, holiday WODs, and potlucks are my favorite. At the box everyone brings a different individual energy that clicks so well with one another. Working out has always just been a level ground for everyone in my family to connect on and have fun family competition. I am so grateful for the amazing safe space my parents have created and that they were able to share it with others.