Here are the most common CrossFit Kids and Teens questions answered from weightlifting safety to the physical and mental skills children build in the class.
When and where is the class? 
CrossFit Optimistic CrossFit Kids and Teens classes are a four week program, Monday-Friday, beginning Monday June 8th and ending on Friday July 24th. The class is 60 minutes for Teens and 45 minutes for Kids. We currently offer CrossFit Kids and Teens classes at CrossFit Optimistic North Central, located at 16675 Huebner Rd #207, San Antonio, TX 78248. Kids can participate in one, two, three or all four weeks of classes. 
What equipment do my kids need? 
The only required equipment is close toed shoes that are comfortable to run and move in. Kids will be running, jumping and hanging, so clothing that limits movement will be hard to work with.
What happens at CrossFit Kids and Teen class? 
The class is broken down into four week long periods with each week focusing on a different component of CrossFit. Kids can join whichever weeks fit their schedule since the skills learned in the previous weeks do not build on each other. The first week is about the beginner level of moving a barbell. The second week is about pullups, hanging movements and jump rope. The third week is advanced movements with weight. The last week is about teamwork. 
Will my kid lift weights, is that bad, and will they get hurt? 
Yes your children will be lifting weights and no, it is not bad! Our CrossFit Kids and Teens coaches focus on teaching the correct technique and will supervise them while they perform the movements with light weight. Weightlifting can be beneficial for a child by not only increasing muscle strength and performance but also improve confidence and self esteem. (insert links from old FAQ)
Is there an age requirement for the class? 
The CrossFit Kids and Teens classes is broken into two groups. The kids class will be ages 5-10 years old and the teen class will include teenages from 11-16 years old. Any kids outside of the age range can join either the kids or teens class on a case by case basis.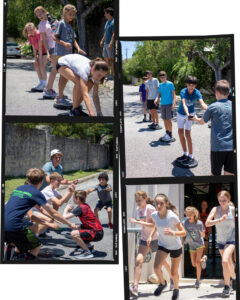 How big are the classes? 
Class sizes range from 5-12 kids per class.
Do my kids need to be athletic to be in the class? 
CrossFit Kids and Teens classes are accessible for all kids. Our program includes options for kids new to exercise through experienced athletes. This class is great for kids to be social, make new friends, and develop their physical abilities through CrossFit.
Who is teaching the class? 
Coach Anjo teaches the CrossFit Kids class and Coach Forrest teaches the CrossFit Teens class.
Coach Anjo is a CrossFit Kids certified Coach and has been training kids for over 10 years. With four kids of her own (her son is Coach Forrest) she knows how to safely train young athletes in a fun and engaging way.
Coach Forrest started out as a CrossFit teen athlete 10 years ago. He has been coaching adults and kids for the past 6 years and knows how to appropriately scale young athletes. He regularly trains adolescents in sports specific personal sessions. This is his third year coaching CrossFit Teens.
What if my teen wants to continue classes after the summer program?
We have specific steps geared towards preparing teens to join adult classes. There are five sessions one-on-one with a coach to specifically teach fundamental movements and techniques so that the teen can seamlessly transition into adult classes. For more information, reach out to Coach Anjo for a free consultation using the contact info below. 
If you have any additional questions, give us a call at (210) 668-3552 or shoot us an email at [email protected]. We are excited to see you at class this summer!