Chris Neil says "by the time you get to be my age, if you don't have a little bit of wisdom, you're not paying attention." If you were to look up the word persevere, you would see Chris Neil's picture next to it. This woman is unstoppable. She has been through three marriages, has six kids, and worked in the male dominated industry of UPS. And to boot, this powerhouse started CrossFit when she was over 55 years old. You might know her as Chris Neil, but at CrossFit Optimistic Alamo Heights, we call her "Historian."
Chris Neil's Family
Chris Neil is from Wichita, Kansas. When she was young, her parents divorced, which made her grow up quickly.
"I didn't have the advantages my friends had. The other kids got to go out and play and have fun and I was at home taking care [of siblings]."
By 5th grade Chris Neil was making dinner and taking care of her siblings every night.
A Mother of 2 at 22 Years Old
Three years after graduating high school, Chris became a part time worker at UPS and met her first husband. Shortly after their marriage they gained custody of his kids from his first marriage. So, at 22 years old, Chris Neil became a mother of two "wild boys."
Although she became unhappy in her first marriage, she stayed because of the kids. "I probably should have filed for divorce much earlier than I did, but I ended up staying with it for the sake of the boys, that weren't even my boys. I knew they needed to have somebody stable in their life." Finally, she formed a plan and left the marriage.
Déjà Vu
Chris Neil had déjà vu meeting her second husband, who also had two kids. He became emotionally unavailable and again, Chris found herself staying in the relationship for the two children.
"If I had gotten out of the second [marriage] sooner it would have been easier. But I stayed till the point where I was more entrenched. He was more emotionally abusive. He had kind of beat me down to where I wasn't sure that I could make it on my own."
So, Chris Neil left him. Simultaneously as she is divorcing her husband, she is completing her master's degree, and quitting smoking.
"I think quitting smoking was probably harder than getting a master's degree and getting a divorce. It was awful."
After she left two marriages, she said the force that kept her going was the fact that she "knew there's got to be a better life for me."

High School Reunion
"I was just prepared to be by myself forever. Because being by yourself is preferable to being in a bad relationship."
But as fate would have it, she was not meant to be alone. At her 30th High School reunion, unbeknownst to her, she met her third husband. He had a "great degree of devotion" driving 622 miles from San Antonio, Texas to Wichita, Kansas, to go on dates with Chris Neil. They recently celebrated their 17th wedding anniversary. And as fate would have it, they gained custody of his two daughters, making Chris Neil a mom yet again!
Finding CrossFit
Bringing the conversation full circle, Chris Neil explains how she found CrossFit.
"Seeing the nursing home in the distance" at 58 she knew she needed a change. Finding the Blue Star Bootcamp Groupon in Hardberger park, she met Coach Anjo, Coach Melissa, and Coach Brenda Stewart (now a member at CrossFit Optimistic North Central). This led to her finding CrossFit with us at CrossFit Optimistic Alamo Heights.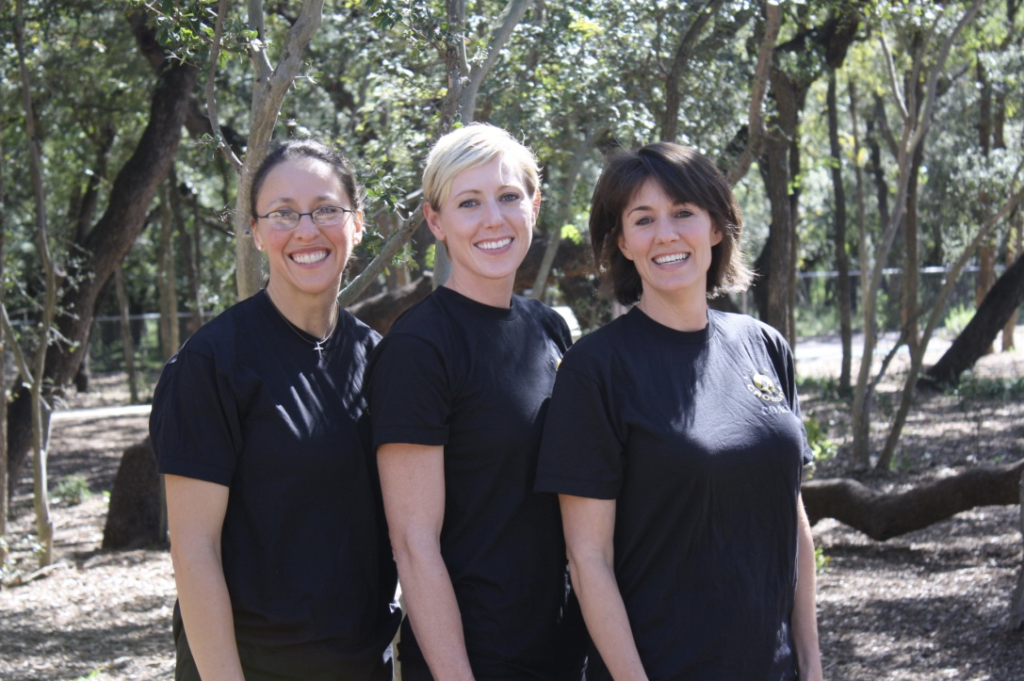 Now a staple 6am'er Monday through Friday at Alamo Heights, CrossFit is a part of her lifestyle and now she is "just addicted." Her advice to people afraid to try CrossFit is that "there is always a workaround for you and you can scale it like a boss."
What's Next?
A mother of 6 children, none of which are her own, faced two divorces, and moving from Wichita to San Antonio, Chris Neil is a remarkable woman. She is looking forward to becoming a grandmother and pursuing art, writing, and baking delicious cakes.